Bjorn Borg's Fila tracksuit, the Brazil 1970 team colours and Adidas World Cup 1982 boots.
All classic kit which has stood the test of time. Even the most rotund male can carry this clobber off, in mind if not in reality.
Reaction to a tweet of Borg's rivalry with McEnroe and their tracksuits for the ages at the 1980 Wimbledon final, set me thinking about the classic sportswear which still cuts it – and the threads that don't.
As a kid, trotting into the school gym for PE lessons in a France 1984 European Championship winning shirt or slide tackling the games teacher in Puma Kings, more than made up for the fact that you were crap.
At least you could look the part if you couldn't play the part.
If Trevor Francis could carry off the European Cup in that Adidas Nottingham Forest shirt, then maybe so could you…
Here's my shufty through the clothes rack of classic sports gear. The nearest I got to most of this lot was a pair of Winfield Madrid football boots (blatant Adidas World Cup rip-offs for one thousandeth of the cost) and a Carlisle United 1975 home shirt from the bargain bin at Jim Alder Sports in Morpeth.
Adidas World Cup football boots
Just look at them man. Nothing more to say really.
Inter Milan shirt
Inter officials approach you: "100k a week in Serie A, an apartment in Milan and the life of a lord in Europe's suavest country. And you get to wear this strip every week." I'll have a bit of that…
Newcastle United – Adidas meets Brown Ale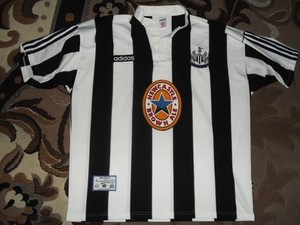 Broon Ale. Adidas. Newcastle United. Memories, light the corners of my mind…
England World Cup 1990 shirt
Gazza, Beardsley, Waddle, Platt's late winner, New Order, Turin – and that kit. What's not to like?
Greek giants' green
Love this. (Worn it on me hols, sadly) Panathinaikos football shirt. More than a nod to the Irish, but as Greek as Feta, Mythos and Ouzo.
Sergio Tacchini v Fila
Off the court, every bit as big as Mac v Borg on it. Fila or Tacchini? The ultimate dilemma for a 1980s football casual. Never a decision I had to make. Geordie Jeans and a Galini rip-off my 'threads of choice.'
Italian football team tracksuit top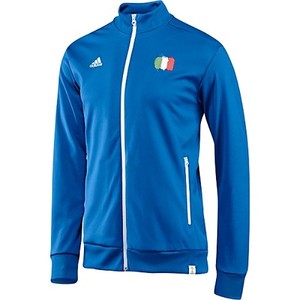 Bellissimo.
Belgium team cycling top 
Forget the bike. Beer in hand and watch them go by.
And maybe not…
Coventry City away strip 1978. Presumably sponsored by Cadbury's Dairy Milk.
Carlisle United top 1975
I liked it. Wore it for a school trip to Flamingo Land. Carlisle in their First Division pomp, if not me.